Bungalow Ampolla Playa (

Ampolla Playa

4

Stars Of a total of

1

valuations )
Address: Playa Arenal S/n L'ampolla (Tarragona)
Access: L'Ampolla. Ap 7, Salida 39 A
GPS: +40º 48' 3'' / +0º 41' 57'' see camping on the map
Telephone: 0034 977 46 05 35 • Opening: 15/3/19 Al 08/12/19 • Plots: 190 • Extension (m²): 40000
Orography playa • Distance from the beach: 0 m • Distance from train station: 1 km - Bus: 1 km
Information on camping
AUTHENTIC WILL LIVE feelings and emotions in a unique ... NATURE ON THE BEACH! 2nd Category Camping located on the beach in the village of L\'Ampolla famous for its cuisine, quiet beaches and coves. At the door of the spectacular Natural Park of the Ebro Delta (Tarragona): fishing, hiking (walking, biking trails, boat), water sports (windsurfing, kite, kayak, ski ...). Large plots and rent fully equipped mobile homes and caravans. WiFi. And child play area. Bar-Restaurant and Supermarket.
To know about Costa Dorada
The Gold Coast is an area with a great seafaring tradition. It is situated in the south of Catalonia and has long beaches, with dunes of fine sand. Its 13 municipalities that stretch along 92 kilometers sixty beaches offer everything from small coves in Mont-Roig del Camp - Miami Platja, Torredembarra cliffs, or a high percentage of iodine in the area Vendrell - Coma-ruga, with fine sand and shallow in Salou, and even nudist beaches like Playa del Torn de l'Hospitalet de l'Infant. The Costa Daurada offers unexpected value to the visitor interested in nature. The network of protected areas includes a surprising variety of landscapes and high biodiversity.
Services and activities offered by the camping and area businesses
First Aid,
Access for handicaped,
Motorhome Service Station,
Laundry,
Caravan Water Take,
swimming-pool,
Hot water shower,
Restaurant,
Playpen,
Electric socket,
Medium shade,
internet,
Carwash,
Bar-Café,
Supermarket,
Caravan water-drain,
Bungalows,
Nude beach,
Surface Fishing,
Boats for rental,
Golf,
Soccer Field,
Trekking,
Disco,
wifi,
Horse Riding,
Bike Rental,
Alpinism,
Renewable energies,
Submarine fishing,
Windsurf,
Adventure Sports,
Entertainment,
Paddle,
gym,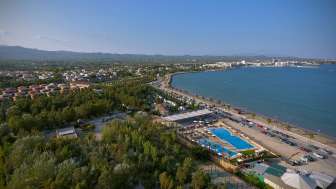 book a bungalow in Ampolla Playa
Contact the camping Ampolla Playa